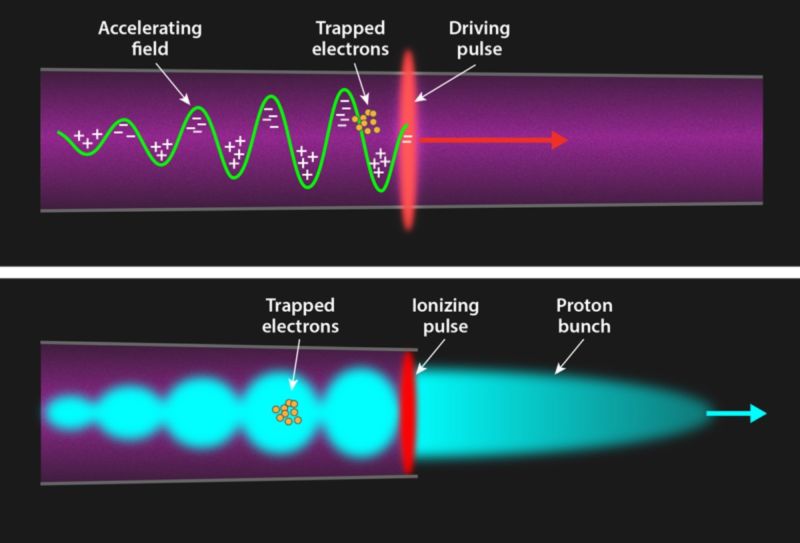 Particle accelerators can speed up subatomic particles almost to the speed of light. The tradeoff is that this requires miles-long tunnels, so such machines are typically enormous and very expensive to build. Physicists are keen to build a viable tabletop version capable of accelerating particles over mere centimeters. Researchers at Lawrence Berkeley National Laboratory have now achieved the highest energy yet recorded using these so-called "plasma wakefield accelerators," and they describe their work in a new paper in Physical Review Letters.
Typical particle accelerators use modulated electric fields inside metal cavities to speed up electrons. The Large Hadron Collider at CERN in Switzerland is the largest ever built, with a 16-mile ring of superconducting magnets serving to boost electrons to near-light speeds. By contrast, plasma wakefield acceleration involves firing very intense, short bursts of laser light into a cloud of ionized gas (the plasma).
The resulting "wave" rippling through the plasma leaves a "wake" of charged particles behind it, just like a speed boat will churn up a wake of water as it zooms across a lake. Then a second laser pulses more electrons into the plasma. If this is done at just the right time, those electrons can "surf" along the wakefield. The electrons draw off the wakefield's energy to pick up more speed, just like a surfer can pick up speed skimming down the face of a wave.